Scott Parker
The importance of collaborating with the community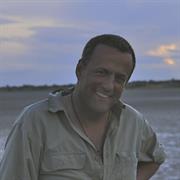 Since 2012, Scott has been working with community leadership in Zutshwa, Botswana, to develop a community/company partnership to develop a small-footprint tourism project in this remote and impoverished region.

Collaborating with the Qhaa Qhing Conservation Trust and numerous other stakeholders, a business model has been developed that will create employment and income in the region, ensure community ownership of a profitable business, and provide capacity training and small enterprise opportunities in the village. Additionally, the proposed business will give local community members a high level of control over their own land and natural resources. This community-centred project will be environmentally and socially responsible, and is based on sound business principles to ensure financial sustainability for the long term.

Scott Parker holds a Master of Business Administration focussed on sustainable development and a Master of Arts in Conflict Analysis and Management. Scott has worked and travelled in over 40 countries around the world, with notable experience in Africa.