Partner organization Tanate Wilderness
4x4 Tanate Wilderness Trails
The Comanis Foundation has established Tanate Wilderness, a Botswana-based tourism company, which is developing wilderness trails and campsites, as well as other sustainable tourism activities, in a 7'000 square kilometer region of largely undisturbed wilderness in southern Botswana.

This tourism development project is a partnership with the Botswana government and local communities, and aimed at utilizing the natural assets sustainably. Local communities rely on the area for natural resources and, together with Tanate, have means to realize value from the region for current and future generations. Sustainable, ecologically viable tourism operations with realistic business models are imperative to the Tanate project.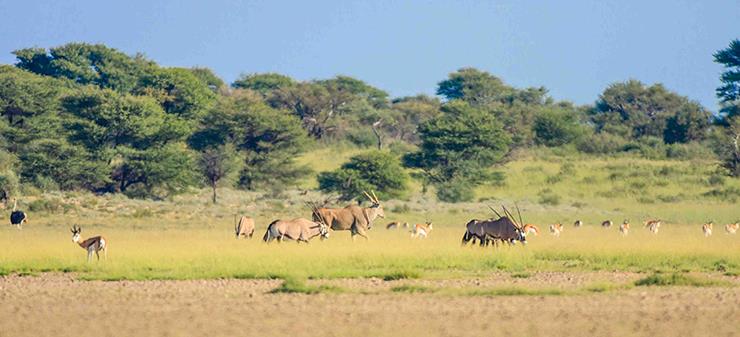 Photo: Julia Burger
Trails and campsites form the central concept of the development plan and, over time, additional unique and differentiated wilderness trails and campsites will be developed. Further, a small house in Zutshwa village will be refurbished for a village-stay project, and there are future plans for cultural tourism in the area, among other developments.

Currently, the existing trails and campsites are being used mostly by tour operators taking groups through the area, European self-drive clientele, and South African 4X4 enthusiasts comprising individuals and club groups. For the trails and campsites, Tanate will soon deploy an advanced website providing information, maps and an online booking system.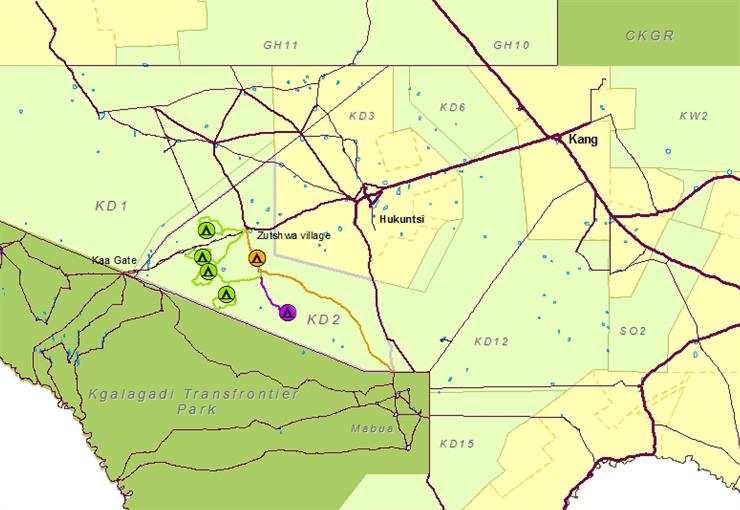 4 x4 KD2 /Tanate Wilderness trails

The area under development is adjacent to the Kgalagadi Transfrontier Park and no fences exist between the park and Tanate's area of tourism operations, allowing free movement of wildlife such as springbok, steenbok, gemsbok, eland, hartebeest, wildebeest and kudu, and their predators cheetah, leopard, lion, wild dog and hyaena, across Tanate's trails and through the campsites.

A number of remote campsites have been selected for their intrinsic beauty, overlooking large and attractive pans at times occupied by antelope and predators. The camps are basic, and guests must be self-sufficient in food, water and fuel. Plans are in progress to build a small firepad and a toilet at each campsite.